Hardwood Flooring in Galion, OH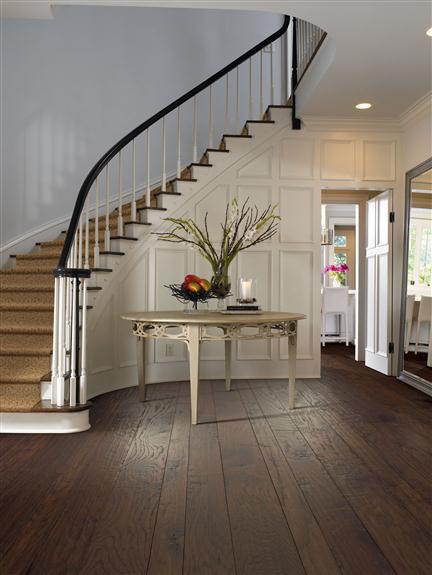 Bring enduring beauty to your home with hardwood flooring at My Floors in Galion, OH. At My Floors, we are the areas leading supplier of quality solid and engineered hardwood flooring along with expert hardwood installations. Whether you desire a beautiful solid oak or water-resistant engineered mahogany, we have the products and services to increase the value of your home and impress your guests. With the proper care, your wood surface will look like new even decades after installation. Explore our diverse collection and choose the ideal hardwood surface for your project. Visit our Galion, OH showroom today to browse our large selection of hardwood flooring and discuss your flooring renovation with our friendly team!
Solid vs. Engineered Planks: What You Need to Know
Wood flooring can be divided into two major categories: solid and engineered wood. Each style has its own advantages and drawbacks, so it's important to carefully consider which type is best suited to your performance expectations. Talk to our team today for all the information you need on the various hardwood types and determine which style is right for your personal lifestyle.
Solid Wood Flooring
Solid hardwood is genuine wood from top to bottom of each plank. If you prefer authenticity, then this is the option for you. Solid planks also tend to be thicker than their counterpart, which means they can be refinished and stained multiple times – extending their lifetime significantly. While solid, genuine wood can be susceptible to damage caused by high humidity, a professional installation and regular care will ensure your hardwood stays in perfect shape.
Engineered Wood Flooring
Engineered hardwood is specifically designed to withstand Galion's humidity. As you may glean from the name, these planks are engineered by combining a rigid wood byproduct core and a thin veneer of solid wood. You get to enjoy the same natural beauty as hardwood along with a stable core that is less likely to expand and contract with changes in moisture.
Why Choose Hardwood Flooring
For centuries, wood has been a preferred building material due to its natural durability and its handsome appearance. Genuine hardwood offers complete beauty and strength along with unlimited customization options. Choose from a vast array of different plank sizes and wood species, as well as different textures, stains, and finishes. With popular hardwood species such as ash, birch, hickory, maple, oak, and walnut, we carry only the best hardwood brands including Hallmark, Somerset, Johnson Hardwood, Baroque, Provenza, Barlinek, Premiere, Mercier, Homecrest, Fishman – Betsy Ross Collection, and more. Discover all the benefits of choosing hardwood for your home:
Timeless, versatile style with unlimited opportunities to refinish

Durable strength in high traffic areas

Ease of maintenance

Increases the value of your home

Exceptionally long-lasting
Hardwood Flooring Maintenance Explained
Some customers shy away from hardwood due to their apprehension of maintenance. However, with a regular cleaning routine and simple care, hardwood maintenance is quick and easy. Our professionals will walk you through proper care for your specific type of hardwood flooring. To best care for your floors, follow these easy steps:
Sweep or dry mop regularly

Wipe up spills with a clean cloth

Use a manufacturer-recommended floor cleaner

Add area rugs in spaces with high sun exposure to prevent fading

Protect from scratches by adding felt pads to heavy moveable furniture

Use humidifiers or dehumidifiers to maintain the air's proper moisture levels
Expert Hardwood Flooring Installations
Trust our experienced flooring professionals for a hardwood installation done right. We utilize expert tools and superior skills to provide maximum value for each customer. From preparing and protecting your subfloors through a seamless, level installation, we have you covered. When it comes to hardwood patterns, installation is an art form. Whether you desire a herringbone or chevron pattern, we hand-select each plank to match your custom design with graining, knotting, and coloring. Further, we back each installation with our Ultimate Confidence Guarantee, meaning we will replace your floors at no extra cost should you experience any issues. Ready to learn more about hardwood flooring?
Contact us today to start your hardwood flooring renovation! We proudly serve Galion and Mansfield, Ohio, and the surrounding communities.