Hardwood Flooring in Mansfield, OH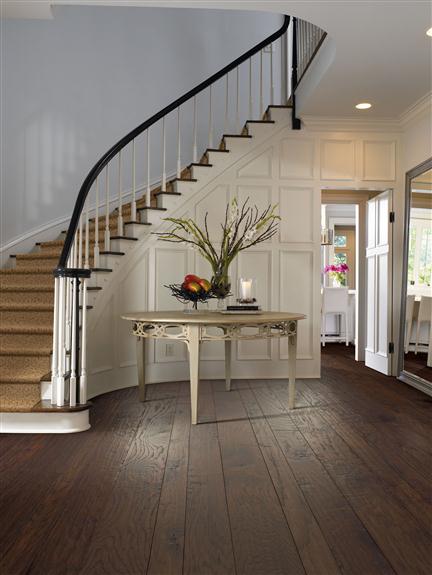 Bring enduring beauty to your home with hardwood floors. For centuries, wood has been a preferred building material due to its natural durability and its handsome appearance. Furthermore, with the proper care, a wood surface will look like new even decades after installation. Visit our store today and browse one of the largest selections of hardwood flooring in Mansfield, OH. Explore our diverse collection and choose the ideal surface for your project.
What Sets Hardwood Apart
Genuine hardwood offers complete beauty and strength along with unlimited customization options. Choose from a vast array of different plank sizes and wood species, as well as different textures, stains, and finishes. Some popular hardwood species include:
Ash
Birch
Hickory
Maple
Oak
Walnut
Talk to our team today for all the information you need on the various hardwood brands available. Rely on our associates to help you determine which style is right for your needs.
Solid vs. Engineered Planks: What You Need to Know
Wood flooring can be divided into two major categories: solid and engineered wood. Each style has its own advantages and drawbacks, so it's important to carefully consider which type is best suited to your performance expectations.
Solid hardwood is genuine wood from top to bottom of each plank. If authenticity matters in your household, then this is the option for you. Solid planks also tend to be thicker than their counterpart, which means they can be refinished and stained multiple times – extending their lifetime significantly. While solid, genuine wood can be susceptible to damage caused by high humidity, certain species stand up to moisture better than others. Talk to our staff to learn more.
Engineered hardwood, however, is specifically designed to withstand humidity. As you may glean from the name, these planks are engineered by combining layers of genuine wood with plywood. You get to enjoy the same natural beauty as hardwood along with a stable core that is less likely to expand and contract when exposed to moisture. To see for yourself how great these hardwood floors look, visit our showroom today.

Contact us to learn more about the hardwood surfaces we sell, as well as our installation services. We proudly serve clients from throughout Mansfield, Galion, Lexington, Ontario, and Shelby, Ohio, as well as the surrounding communities.