Resilient and Classic Tile
Tile Flooring in Galion, OH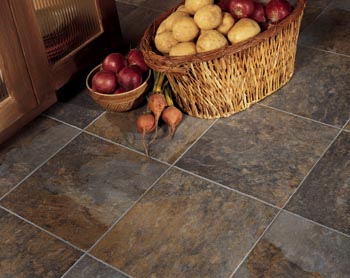 Revitalize your spaces with stunning tile. My Floors is proud to offer a vast selection of natural stone and man-made tile flooring in Galion, OH. From the nature-inspired room to the retro kitchen, the beauty and durability of tile flooring can match it all. Plus, you can use tile to update kitchens and bathrooms by adding a stunning backsplash. There are so many colors and patterns to choose from.
Tiles That Are as Resilient as They Are Stunning
For flooring that is as resilient as it is stunning, ceramic tile is an excellent option. This luxurious tile resists water, stains, and humidity. It's also sturdy enough to withstand heavy foot traffic and pet nails. No matter how hectic your lifestyle, ceramic flooring is a great option to see you spend more time enjoying yourself and less time maintaining your floors. Plus, with endless color, design, and shape options, there is an endless variety of designs that can be created.
Create One of a Kind Décor with Porcelain
Another enduring and striking flooring option is porcelain tile. Much like ceramic, porcelain is built to last and can help increase the resale value of your home. The one difference is that during the baking process, most of the water is removed which makes it a stronger floor tile. This makes it a much better choice for higher traffic areas such as a foyer or kitchen. These durable and long-lasting tiles are offered in a wide range of styles that are easy to match to any décor. Whether you use tile to update your flooring or create a one-of-a kind backsplash or shower stall surround, porcelain is an excellent choice.
A Stunning and Luxurious Floor Tile Option
One of the most stunning and luxurious flooring options that work anywhere in the home is slate tile. Highly durable and versatile, slate flooring has a high resistance to scratches, stains, and fire. With an endless variety of design patterns that natural stone offers, creating a breathtaking mosaic for your floors or backsplash would be a cinch. As with all our natural stone and man-made tile options, slate works well on floors as well as walls for an added touch of nature in your home. With little upkeep required to maintain it, slate makes an excellent tile choice.

Ready to begin your flooring and floor tiles or backsplash project? Visit our showroom to browse our wide range of options for tile floors and more, and speak with one of our specialists about the best products for your needs.

Contact us to help you discover the best tiles for you. We are happy to serve clients for flooring and floor tiles in Galion, Mansfield, Marion, Bucyrus, Crestline, Mt Gilead OH, and the surrounding communities.