Select the Versatility of Wood Look Tile in Mansfield, OH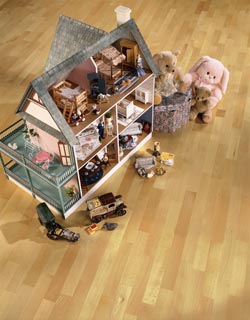 When it comes time to upgrade your floors, then it's also time to consider the wide range of choices on the market. You can ponder over colors and styles of carpet. You can think about the look and feel of vinyl. You can wonder about wood. Or you can opt for a flooring choice that is very versatile — wood look tile in Mansfield, OH.
This choice is well-rounded enough that you can install it with confidence in any room in your home. It offers the color and texture of whichever type of wood you happen to favor. If you like oak, maple, walnut, or any other species, you can find it at My Floors Flooring America.
Maybe you've hesitated in the past to put wood flooring in your bathroom because you were concerned about water and wood not mixing. With this type of tile, it's not an issue. Water doesn't get absorbed which means you don't have to worry about swelling or shifting.
Tough and Tasteful
When you have new floors installed in your home, you want them to last. You don't want to be considering that you will only get a few years of good quality use before it's time for another replacement. It would be difficult to absorb that cost on a relatively frequent basis, so you've got to make a choice for flooring that is here for the long haul.
Once you decide upon wood plank porcelain tile, you are going to be glad you did, since it's wonderfully durable while looking great. Porcelain is created from clay which is baked at very high temperatures and then sealed to create a beautiful wood look finish with the resilience of tile.
Not only is it tough, but it's also remarkably easy to maintain. You don't have to worry about refinishing it or shampooing it or buffing and waxing. All you need to do with porcelain or ceramic wood tile is to sweep it, wipe it, and occasionally run a damp mop over it. Upkeep couldn't be much easier.
Stylish Design Options
This tile gives you the appearance of wood, and in the hands of skilled installers, you can get an artistic and stylish design to match the latest trends or even sets new ones. You can get a unique look with the porcelain wood tile, or its ceramic counterpart, by having it grouted during the installation process. No matter if you go that route, or prefer an alternative, your new floor will be the envy of all who see it.

Contact us to learn more about these types of tile. We are proud to serve customers in Mansfield, Galion, Lexington, Ontario, and Shelby, OH, as well as the surrounding area.