Your Source for Wood-Look Tile in Mansfield, OH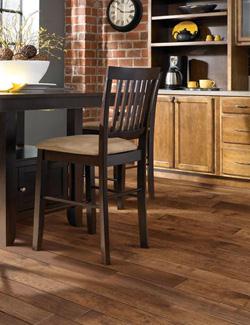 Coveted by homeowners of nearly every taste and preference, hardwood flooring offers a highly desirable look that adds visual warmth to any room it's placed in. However, there are a few rooms in the home that traditional hardwood isn't liable to do well.
Fortunately, My Floors Flooring America has an attractive alternative that allows homeowners to fit their spaces with the look of solid wood flooring without the worry. With our wood-look tile in Mansfield, OH, homeowners can fit even the most unconventional spaces with the desirable look of hardwood flooring. Visit our showroom to find a choice that's sure to suit your remodeling project.
Is It Real Wood Flooring?
When shoppers step through our doors, they'll find an impressive arrangement of premium flooring options, including our look-alike choices. These unique tile flooring options replicate the look of solid hardwood with stunning realism. Our options include:
Ceramic Wood Tile
Porcelain Wood Tile
Wood Grain Tile
Wood Plank Tile
Choosing either our wood-look ceramic or porcelain flooring choices is a surefire way to add the look of hardwood without having to worry about how your new flooring will fare, especially in moisture-prone spaces. No matter what your material preference, you can rest assured that the room you wish to redress will still be fit with the convincing look of hardwood that you long for.
Reimagine Moisture-Prone Spaces with Wood-Look Tiling
Due to their unique manufacturing, our wood-look tile floors are a perfect material for flooring renovations in bathrooms, kitchens, and other areas of the home that are subject to moisture. Traditional solid hardwood won't handle moisture-prone areas well because wood contracts and expands due to humidity and temperature changes. Fortunately, the alternative composition of our look-alike flooring makes these materials an excellent choice for any room in your home, even moisture prone ones.
All it takes is a single visit to our expansive showroom to find a highly desirable selection that you're sure to love. Available in many different designs, sizes, and styles, our wood-look tile selections are an excellent choice for nearly any space. All it takes is a single step in our showroom to find floors that will complement your interior design. Are you unsure which of our selections would best suit your needs? Share your design aspirations with our dedicated specialists, and we'll gladly help you find a choice that will fit your remodeling project perfectly.

Contact our showroom to learn more about our wood-look tile flooring choices. We proudly serve clients in Mansfield, Galion, Lexington, Ontario, and Shelby, Ohio, and the surrounding communities.