Design Trends and Inspiration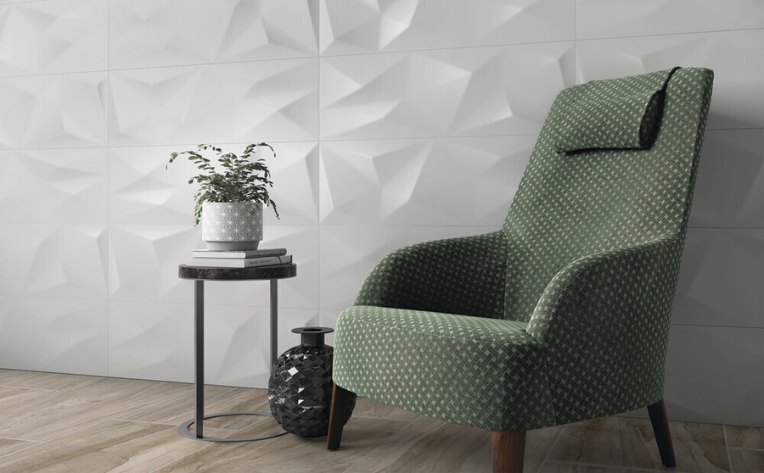 May 27, 2022
Bold carpet is back, and carpet tile is the easiest and most DIY-friendly way to up your carpet game. The benefits of carpet tile stretch far and wide, but the most notable is that if a tile or two get damaged, you can easily replace them without having to pull up the rest of the carpet and invest in a new one. So, for households with leaky basements, incontinent pets, careless kids, or clumsy red-wine-drinking guests, carpet tile is the perfect solution. With countless shapes, colors, and patterns to choose from, the carpet tile selection can be daunting, and the vast number of ways you can lay those tiles adds to the number of possibilities. Here are a few carpet tile pattern ideas to get you started.
New Shapes
Gone are the days when carpet tile was limited to traditional square tiles. Now, they come in hexagon, triangle, and plank tiles. There are even curved tiles that create a softer, more relaxed floor look. These new shapes open up a whole new world of possible carpet patterns. And don't be afraid to use multiple shapes—you can use different-shaped carpet tiles to transition from one space to another in an open floor plan.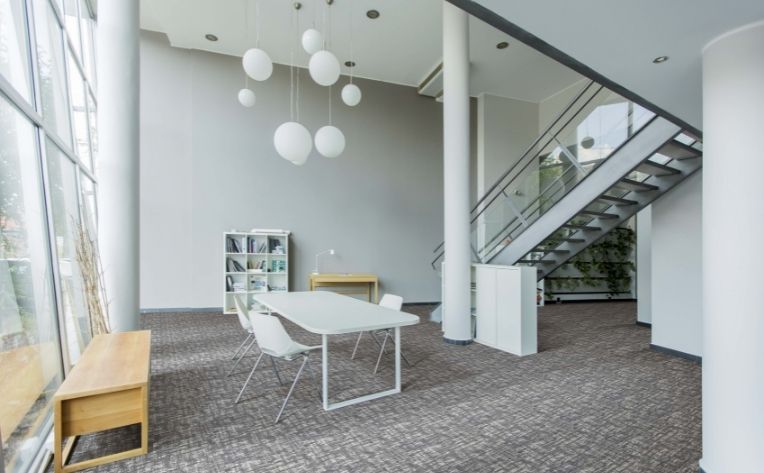 Colors and Patterns
We recommend people choose the designs that best fit their personality, but we get that some people may like a more minimalist, classic style for their main living spaces. Even if you go for a neutral look in your main room, there are opportunities for a little bit more fun in other spaces. Your children's room or playroom, your home office, and your basement are just a few to note. With a fun pop of color and a funky pattern, these spaces will make you feel inspired while also being comfy and stress-free.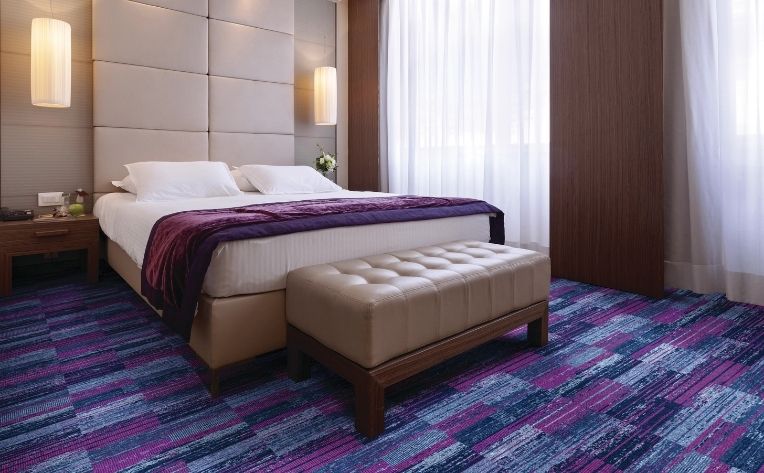 Mix and Match
Don't be afraid to mix and match. Try combining carpet tiles with different colors, textures, patterns, and piles. You can install high-pile, comfy carpet tiles in the middle of lower-pile ones to create the illusion of an area rug—with the added benefit that it won't slip and slide when stepped on.
Layout Options
Patterned carpet tiles don't have to be placed so that the print matches up at every edge. If you have square tiles, try making a new pattern by giving the tiles a quarter turn, so each lays perpendicular to the one adjacent to it. With plank tiles, you can go for an ashlar layout, which is similar to a brick layout in that all the tiles face in the same direction but are offset so that the corners of the tiles do not touch. Another option is a herringbone or double herringbone layout, or if you're willing to take an extra step to have the edges cut on a diagonal, a chevron pattern will work too.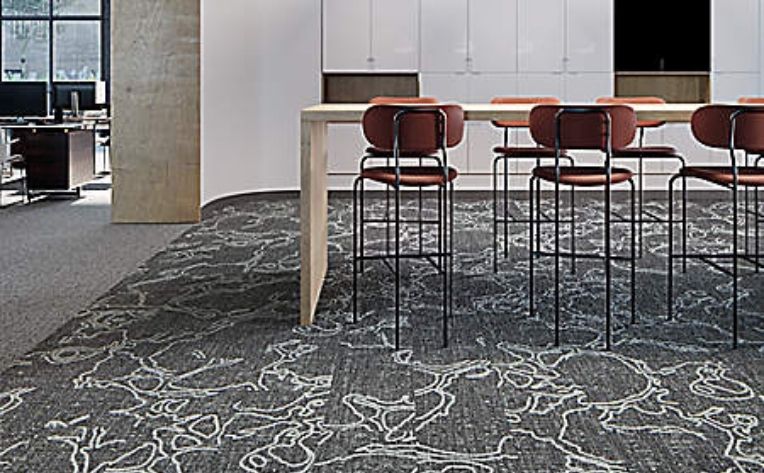 Transitions
No matter what layout you choose, you can use the colors of your tiles to transition from one space to another. For example, if you have three different-colored tiles interlocking in the living room area, you can have it transition to all just one color in the dining room, kitchen, or hall. Not only does this make for an easy transition on the eyes and feet, but it also allows you to have a darker color in spaces where it's more likely for your kids and guests to spill their drinks or food. That way, you can have the fun colors and patterns you want without stressing as much every time someone knocks a glass over.
If you're looking for the right carpet tile to fit your space, your local Flooring America experts are here to help you find it. They're happy to help with all your projects whether it's a major home renovation or a small home improvement project, so visit yours today.
Continue Reading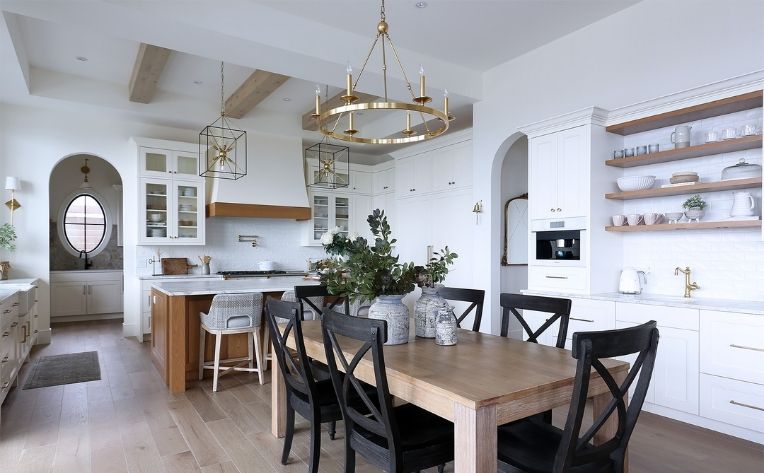 May 23, 2022
Written by Trisha Isabey | Photography by Trevor Cooper | Project Design Lead by Raquel Miliken
As a designer, I approach every new project from a variety of perspectives. What is the main purpose of the space? Who will be using it, predominantly and occasionally? And what's trending in the broader world of design and décor? The answers are unique to every project and form the basis of every design, with the potential to go in a million different directions. In this case, family living dictated an aesthetic of modern farmhouse meets Old-World European charm, with every detail thoughtfully curated to reflect this perfect union of styles. Here's how we got the look.
We washed the entire home in a classic color palette and timeless finishes because regardless of what's "trending" or the chosen style for a particular space, longevity always seems to be a common goal when it comes to home renovations. For our modern farmhouse, we started with an archetypal white palette representing simplicity, cleanliness, and order. We gave the classic hue a newfangled twist with a whisper of warm undertones to usher in a basic, flat design into the present era. By adding dimension to this simple backdrop, we layered in organic elements in the form of muted earthy colors and natural wood and materials in a biophilic design that offers something for everyone, from the dream kitchen to the backyard pool and green space. This approach allowed us to stay true to our chosen aesthetic while balancing the clients' functional needs and artistic goals.
Echoing in the background was the homeowner's love of travel and their particular penchant for Italy, which we personified with European influences in our plans for this dream home.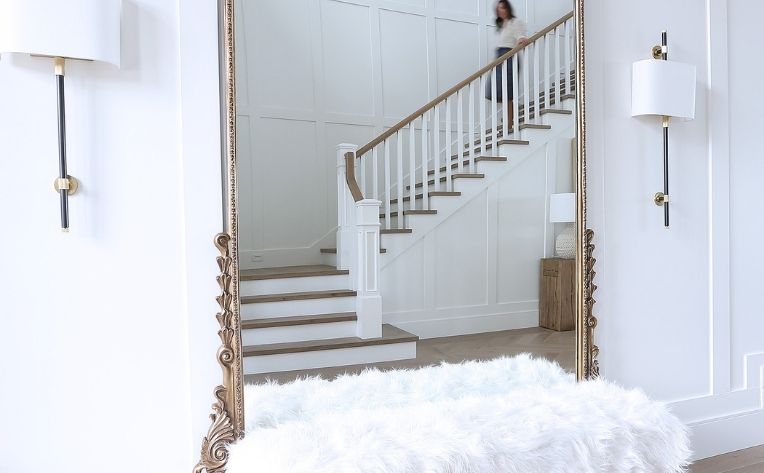 On entry, it's love at first sight with this stunning foyer. The gleaming primrose mirror, wall millwork, and herringbone flooring magnify the room with a grandiose appeal. Despite this showy first impression, the home has a humble casualness about it that draws you in. As you move through the home, seamless transitions take you between spaces without skipping a beat. Meanwhile, each room—and each space within them—has been designed with purpose and a unique flair.
The home's open floor plan encourages a social atmosphere that aligns with the clients' expressed desire for a family-friendly home. In the living room, we focused on natural textures, such as clay, wood, and natural stone, which lend Old-World, artisanal touches throughout. The overall vibe can best be described as "homey" and a place where residents and guests always feel welcome and at ease.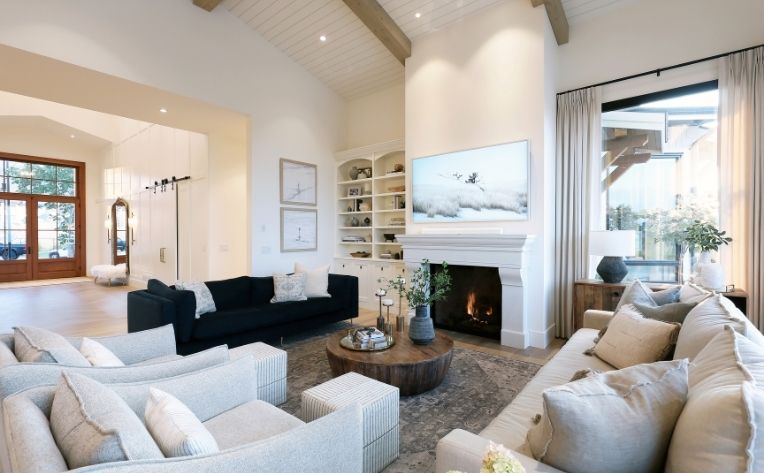 Textiles play an important role in the overall ambiance, adding layers of visual interest, warmth, and "touchability." The farmhouse aesthetic loves organic and naturally derived materials, such as linen (which we used) as well as wool, cotton, hemp, or raw silk. Underfoot, a traditional-style area rug delineates a sitting area in front of the fireplace—a natural gathering place and focal point in any home and certainly in this one. Window coverings take a simple form, framing without abstracting the natural light or the views.
The kitchen is the showpiece of the space, as is often the case. However, the kitchen is even more critical in a farmhouse design, which focuses on history, tradition, and the bygone days when most of the "living" in a house was done in this one room. Indeed, the kitchen has undergone a major evolution through the centuries, but as our lifestyles have shifted since the pandemic, we may have come full circle to a space that serves many more needs and functions than just cooking and eating. This particular kitchen is a stunning space to live, entertain, work, and store daily essentials and occasional items.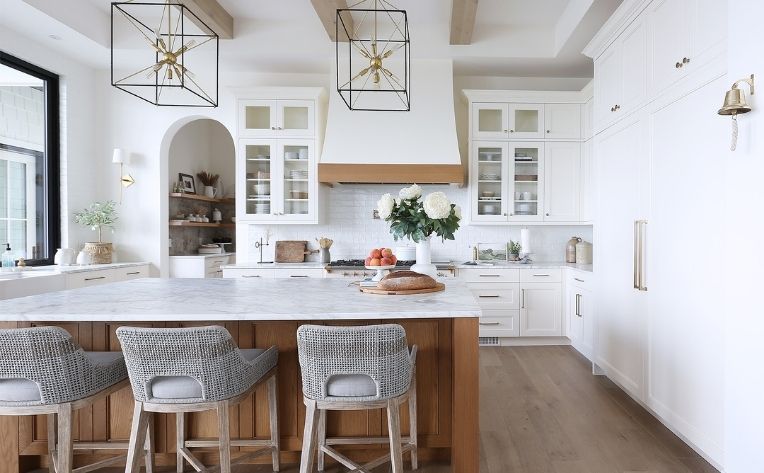 From an aesthetic perspective, natural marble countertops, a porcelain farmhouse sink, and a satin brass faucet echo a distinctly Euro farmhouse feel. Warm wood details and continuous honey-hued floors keep things light and warm. But perhaps the biggest stand-out feature is one that you can't see outright: storage space.
Storage (or lack thereof) ranks right up there as one of the top reasons most homes "don't work" for my clients anymore. Think about it: your storage needs have likely changed in the past five years, whether due to changes in lifestyle or family structure. And if you're renovating a kitchen, you'll want to plan at least 10 to 15 years in the future or more. This means anticipating your storage requirements.
To balance the clients' functional needs and aesthetic goals, we used a combination of open and closed cabinets and shelves, which not only supply valuable storage space but also add visual interest and help tell a story. This space offers ample storage behind closed doors, which comes by way of kitchen cabinets and a pantry. For a busy family, this offers an accessible yet hidden place to stow away every culinary essential and a few extras, too. We maintained a simple, streamlined look by cladding the fridge in matching panels. We also employed open shelves and an opportunity to showcase collected items, beautiful objects, and unique treasures.
This particular kitchen afforded the luxury of space, so the design incorporates a pantry in one anteroom and an office in another. These dedicated utilitarian spaces allowed us to organize the family's activities into designated areas, bringing order to a space that's commonly characterized by daily chaos. The pantry and office space benefitted from the home's brand of farmhouse charm, wrapped in a natural stone backsplash and wood display shelves lined with thoughtfully selected accessories.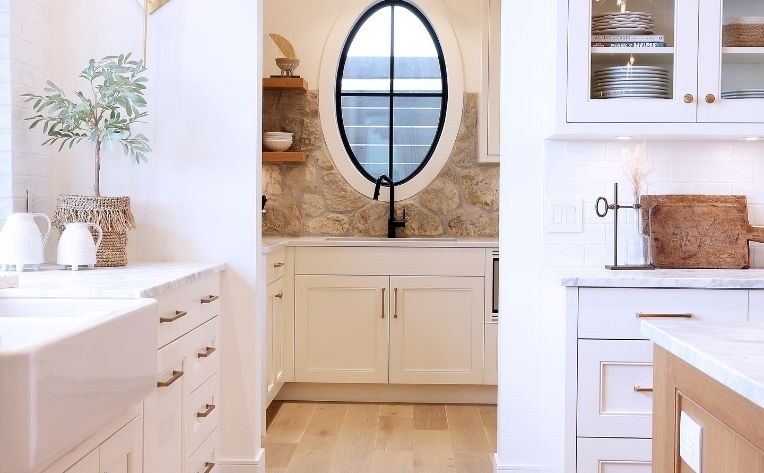 The primary bedroom should serve as an escape from the world, so we treated it as such with a unique flair all its own. The bold floral wallpaper is an instant attention grabber, adding a modern edge with a gentle nod to tradition. The upholstered headboard and pillows bring a touch of softness and luxury, offset by the simplicity of natural wood in the furniture and the floor.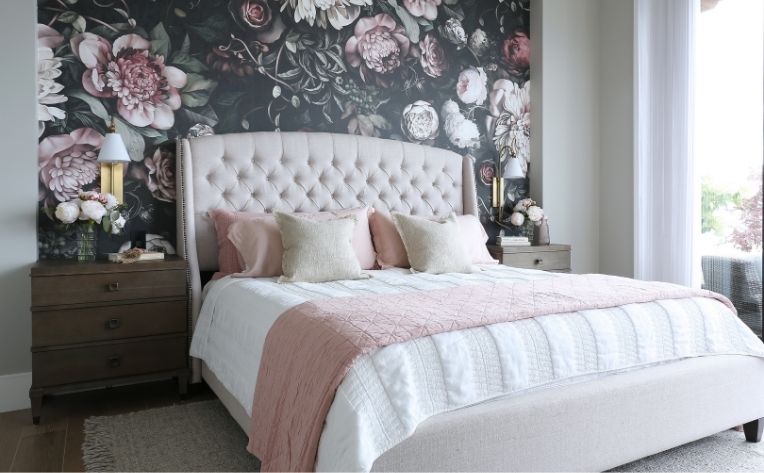 The adjacent ensuite features a beautiful palette of natural linen, organic wooden objects, and real marble with hints of pink picked up from the bedroom wallpaper and the main living areas downstairs. Although the sleeping quarters are physically separated, they are still very much connected through a cohesive palette of colors and materials.
This home's Old-World European style achieves a sense of warmth and harmony by using textiles and texture, vintage décor, natural wood, stone, and tile. Meanwhile, the modern farmhouse theme comes to life through a palette throughout the home, such as warm white, natural wood, and soft gold and black punctuation points. In every beautiful home, the fine finishing details don't just happen by chance. Rather, they are a product of careful planning and skilled execution. When in doubt, work with a professional designer.
---
Trisha Isabey is the creative director and principal designer for the award-winning Isabey Interiors. The Kelowna-based design firm has excelled for over a decade in creating thoughtfully curated designs. The sought-after design team offers a diverse range of design services throughout Western Canada and nationally.
Gather more designer advice and read about the latest interior design trends in our latest issue of Design at Home magazine!
Continue Reading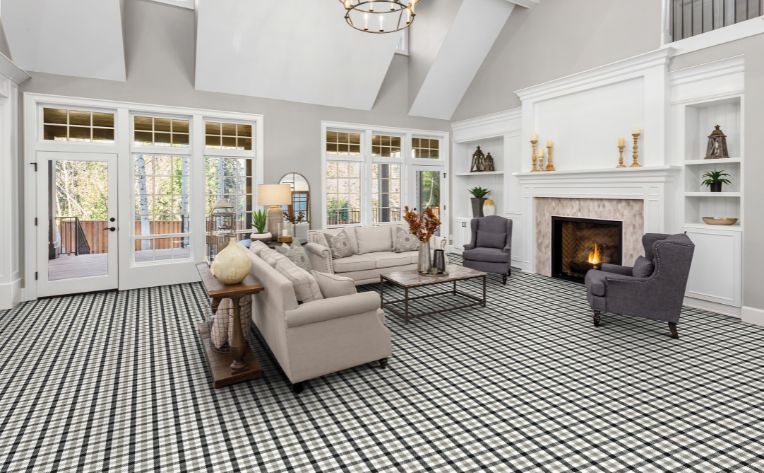 May 20, 2022
Oceanside Broadloom by Couristan
After years of new faux-hardwood technologies getting all the praise, carpet is back. And that means comfort is back.
We all need some extra comfort these days, so why not feel cozy and comfortable every time you walk on your floor? Unlike hard floors, plush carpets will have you clicking your heels and saying, "There's no place like home." Plush carpets are perfect for bedrooms, home offices, family rooms and dens, where you can have comfy higher pile carpets and not worry about tripping. We recommend lower pile carpets for stairs, living rooms, and halls—anywhere with high foot traffic—but the carpet's material, color, and pattern are all up to you and your style. Here are some of the latest trends in carpet to help you find the best fit for your lifestyle.
Natural Materials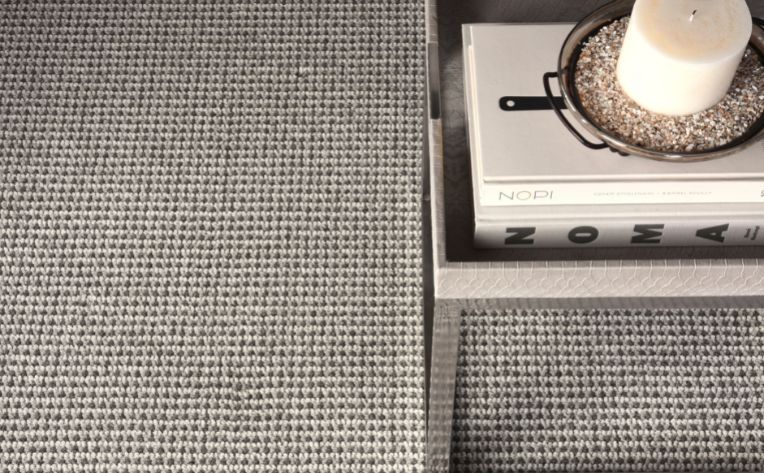 Expressions Hagaman Collection by Nourison
Natural materials like wool, jute, sisal, and seagrass for carpets are in. Not only do they bring a modern, organic, bohemian feel to a room, but they're also more sustainable than synthetic materials. Sisal carpets are the most durable of the natural materials, so they would work in any space that gets a good amount of wear and tear. Hallways, mudrooms, living rooms, and even stairs could benefit from sisal carpets, as they stand up to guests' shoes, cats' scratches, and kids' toys.
Jute carpet is softer underfoot than sisal, so it may be a better option for rooms where you tend to be barefoot more often, like the bedroom. Jute carpet, like other natural materials, gives a homey, natural look to any space.
Wool carpets are also a great option for a soft but sustainable carpet. As a natural, biodegradable, and renewable fiber, wool is a beautiful material that's easier on the planet while also being easier on your feet.
Bold Patterns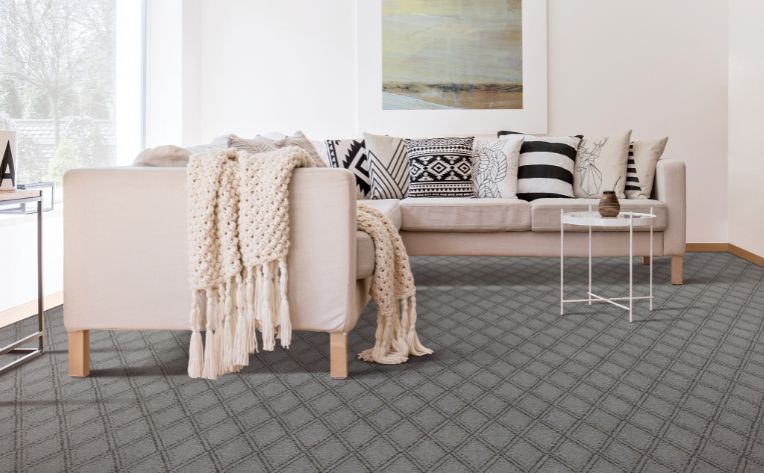 This year, the maximalist aesthetic is in. That means bold colors and patterns are back. There's a reason patterns are one of the top carpet trends for 2022. Not only do patterns mask the inevitable dirt, crumbs, and pet hair in your home, but they also allow you to express your personality through interior design. There are plenty of carpet patterns to choose from, so find one with an aesthetic and material that works best for your taste and needs. If you're doing a full room reno, consider making the bold carpet the jumping-off point for all your other furniture and décor colors.
If the maximalist look is too much for your personal style but you like big patterns, consider a slightly bolder carpet of a neutral color, but with a mix of finishes. There are carpets with patterns made of a different material, which have a higher pile and give a beautiful texture to your floor. Another way to incorporate patterns without going too far out of your comfort zone is to opt for a neutral-colored carpet that has a pattern in the weaving of the carpet. That way, you have a visually interesting carpet without making too much of a statement.
Jewel Tones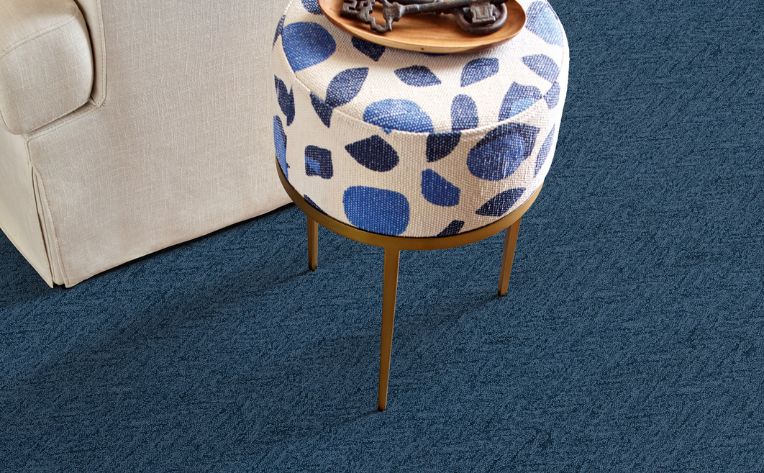 After a long stretch of white and gray dominating home design, bold colors are finally back. And jewel tones are taking strides to the top of the color palette. Choose a bold jewel-toned rug like amethyst, emerald, sapphire, or ruby. As many '70s-inspired styles are coming back in fashion and interior design, these bold, rich colors will make a trendy statement while looking luxurious.
Feeling inspired to mix up your carpeting? There's a perfect carpet option for everyone, and your local Flooring America experts are here to help you find it. Begin your next home design project at Flooring America and let our design experts guide you through the top selection of carpets and area rugs.
Continue Reading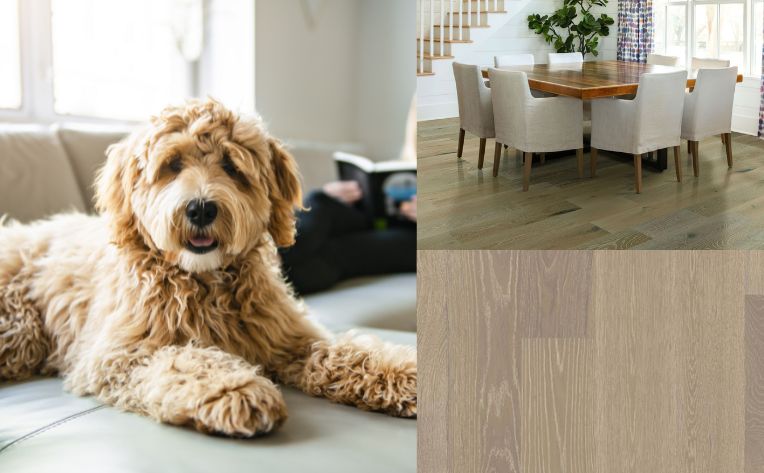 May 18, 2022
There is no one who understands the necessity of having a floor that can handle life's toughest messes better than an active family with kids and pets. However, that's not to say that other homeowners won't appreciate the beauty of having a durable floor! Any space can benefit from a floor that stands the test of time and is resistant to mess, but a home that plays host to busy lifestyles and plenty of foot traffic is surely going to see those benefits firsthand. With so much time spent in our homes over the last few years, the advantages of durability have been made clear and certainly contributed to the rise in one of 2022's biggest styles to watch: Waterproof Flooring.
This design trend truly speaks for itself, but in 2022 we've seen a sharp rise in the popularity of waterproof flooring, not only in traditional water-resistant flooring types, but even within industries like carpet and hardwood. If you're looking for ways to keep your home looking its best for years to come, check out some of our favorite waterproof flooring products below.
1. Waterproof Hardwood Flooring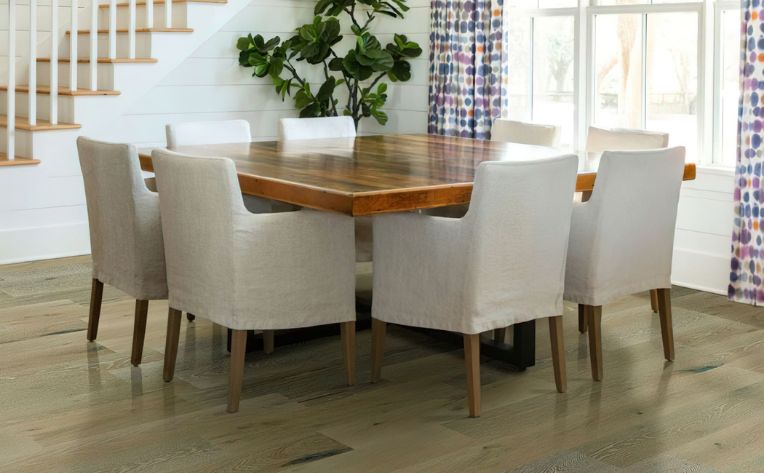 Aquadura H2O Lanes Prairie White Oak Hardwood in Banana Cream
When it comes to flooring, hardwood is a classic, elegant choice that can elevate any space. While some traditional hardwoods are not always water-resistant, Aquadura H2O has created the perfect combination of classic white oak hardwood styling and advanced technology performance that is not only waterproof, but also kid and pet proof. Due to its waterproof sealant and core, the Lanes Prairie White Oak is perfect for kitchens, bathrooms, basements or anywhere that there may be lots of traffic and potential for spills. This waterproof hardwood is available in seven different wood-tone hues, making it easy to find the perfect floor to match your style and space.
2. Waterproof Carpet

Rival by Resista Rival & Strong Plus Carpet in Creek Bed
If carpet and waterproof are two words you're surprised to see together, you clearly haven't met the Rival & Strong Plus carpet from Rival by Resista. This plush and durable carpet is made with advanced, stain-and-crushing-resistant fibers that repel stains and dirt so you can enjoy easy cleanup. The backing is waterproof, which protects the cushion and subfloor underneath from water damage or otherwise undetected spills. Rival & Strong Plus carpet comes in 12 different hues, each just as stunning and durable as the last, making it easy to find the carpet you want in a color that makes your design style pop.
3. Waterproof Laminate Flooring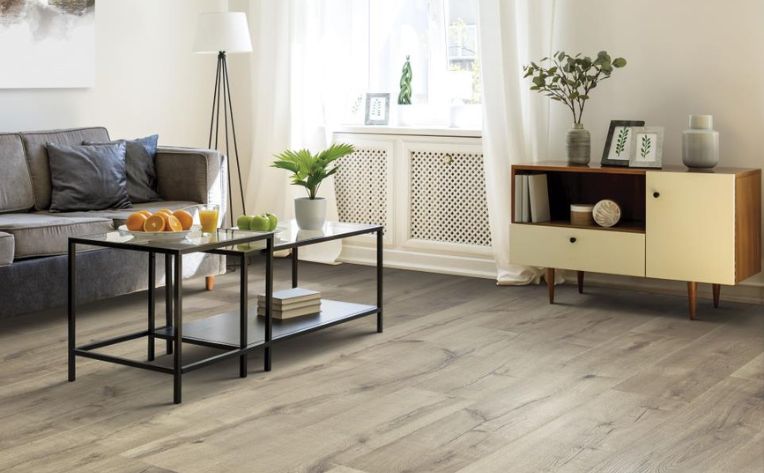 Floorcraft Performance Flooring Juno Oak Laminate in Athens
If you're looking for something a little more rustic in design, but still durable and waterproof, the Floorcraft Performance Flooring Juno Oak laminate is the perfect choice. On the surface, this incredibly realistic embossed wood pattern features deep graining and hand-scraped detailing, which gives it the appearance of a true, genuine oak. But unlike most natural wood, Juno Oak laminate flooring is waterproof, kid-proof and pet-proof, making it perfect for holding up to the demands of a full house. Offered in five different shades, this stunningly durable laminate floor will undoubtably supersede your expectations and keep your home looking brand new for years to come.
4. Waterproof Luxury Vinyl Flooring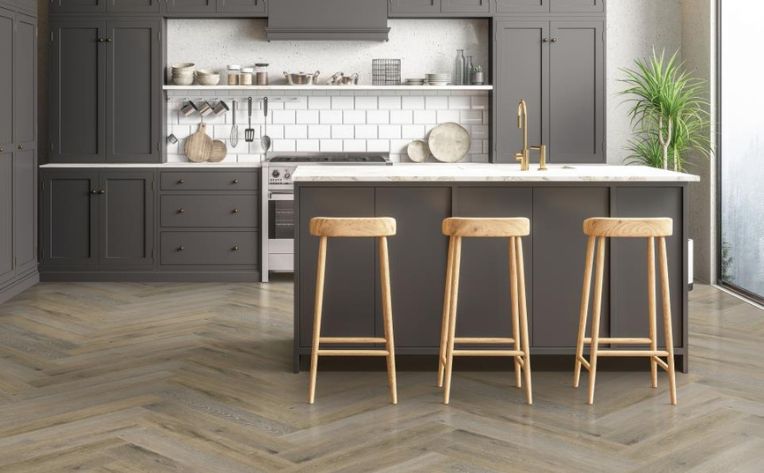 Downs H2O Timber Plus Herringbone Luxury Vinyl in Beechwood Herringbone
Are you looking for a stylish way to freshen up your space, but don't want to sacrifice the durability and strength you need in your floors? Look no further than this beautiful Timber Plus Herringbone vinyl tile from Downs H2O. Capturing all of the unique elegance a real wood provides, this vinyl tile flooring has the added benefit of an eye-catching herringbone design destined to make any space feel freshly elevated. This vinyl flooring is waterproof as well as scratch and scuff resistant, making it perfect for high traffic or spill areas. With three classic hues to choose from, this flooring is the perfect combination of elegant style and waterproof durability.
With so many options to choose from, it can be overwhelming to decide which Waterproof Flooring solution is the best for your unique space. Of course, we are more than happy to help. Consult the professionals at your local Flooring America for expert flooring advice, and check out our 2022 Style Watch list to read about this year's other top flooring trends and products.
Continue Reading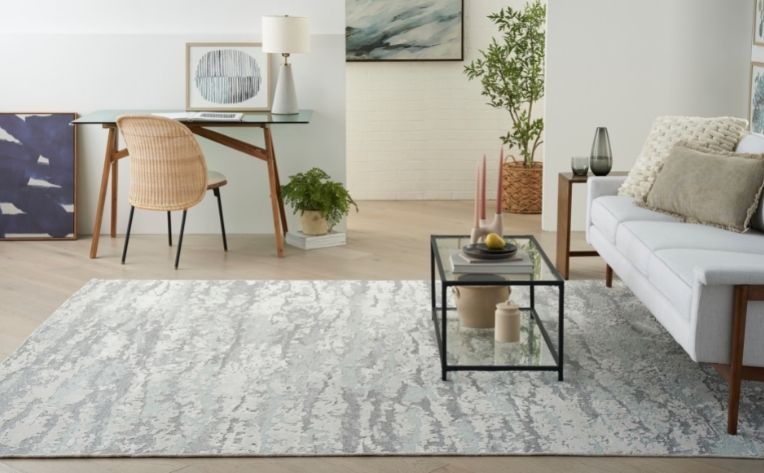 May 11, 2022
Hardwood floors are known for being classic, beautiful, and luxurious, so you may be hesitant to add a rug that covers them. But for as beautiful as hardwood floors are, they aren't the softest spot for your feet to land. Area rugs are the perfect addition to pull a room together, make it feel homier, and provide some more comfort underfoot.
Whether you have real hardwood floors or faux hardwood in the form of vinyl or laminate flooring, there's a rug to match; you just have to look for it.
Size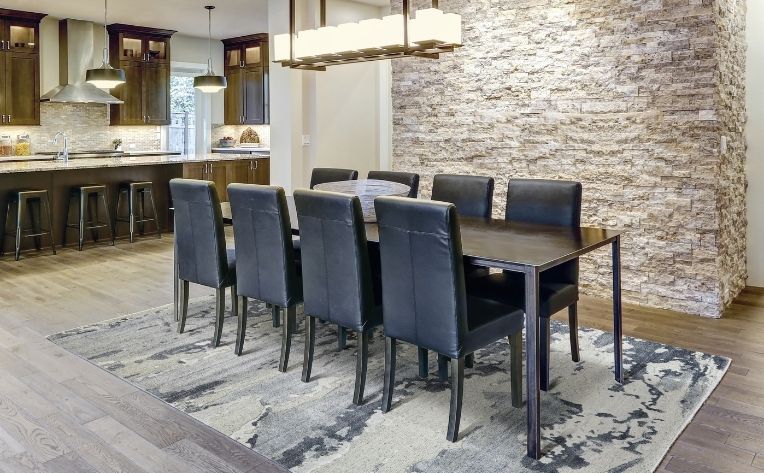 Divine in Slate by Nourison
Let's start with sizing. Typically, an area rug should cover just the seating area of a room, and all the furniture should sit on the rug or at least have its front legs on the rug. This makes the most-used part of the room feel tied together and welcoming to guests. If you have an irregularly shaped room or varied furniture layout, you can choose different rugs for different areas of the room. Just make sure that their colors and patterns don't clash. Size does matter here—if you choose a rug that's too small, it will make the room look disjointed rather than cohesive.
Color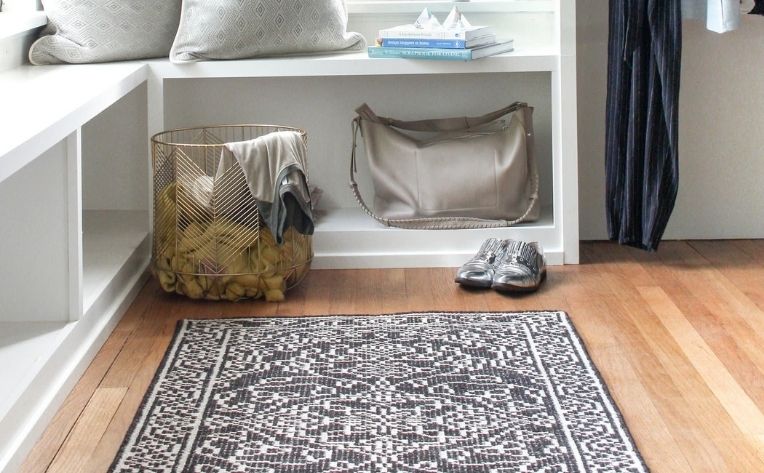 Herrara Collection in Charcoal by Kaleen
When choosing a rug for the room, there are a few different purposes it can serve, design-wise. Depending on the type or color of hardwood you have, you might want to choose a different color or texture of rug. If you've already paired dark furniture with hardwood floors, a large, light-colored area rug will brighten up the room from the floor up. Now, the thought of putting a light-colored rug in a room where people eat, drink, and walk may be anxiety-inducing for some. But, you can squash those worries by choosing a rug with a low pile to decrease potential trips and a stain-resistant rug in case you do trip with a full wine glass in hand. For dark hardwood, beige, white, gray, and light blues and yellows will match best. For light-colored wood, opt for brown, burgundy, and earthy-toned rugs.
For a rug that's meant to protect your floors from dirt and wear and tear, like a floor runner in your front hallway, choose something darker or patterned. Choose a rug color that is in a similar color palette to your floors and furniture to ensure that they all work together in a room.
If you're a pet parent, you might also want to consider your furry friend's hair color when choosing a rug color. You may love your hardwood floors, but as soon as you get a comfy rug, it's bound to become your pet's favorite spot to curl up—instead of their overpriced dog bed. So, if you have a black lab, opt for a darker rug, and if you have a golden retriever, choose a lighter rug.
Pattern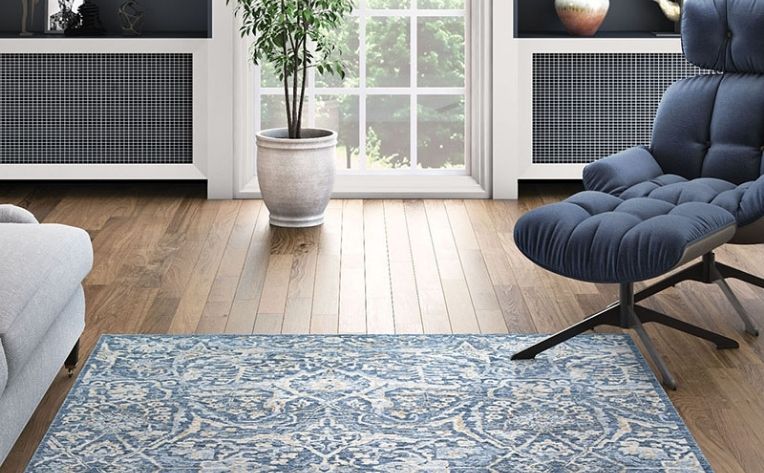 Couture Ballerine in Carolina by Couristan
After figuring out what color area rug might work in your space, you'll want to think about the pattern. Patterned rugs are great because they hide dirt, pet hair, and crumbs better than a solid colored rug. Southwestern and Oriental-style rugs are classic patterned options, but even just a solid, striped rug can complement your hardwood floors beautifully. When opting for a pattern, choose one that aligns with the size of the room. For a large room, a large pattern on a rug makes sense, but a large pattern in a small room won't look quite right. If there's already a lot of furniture in a large room, it may look better to choose a rug with a small pattern.
Safety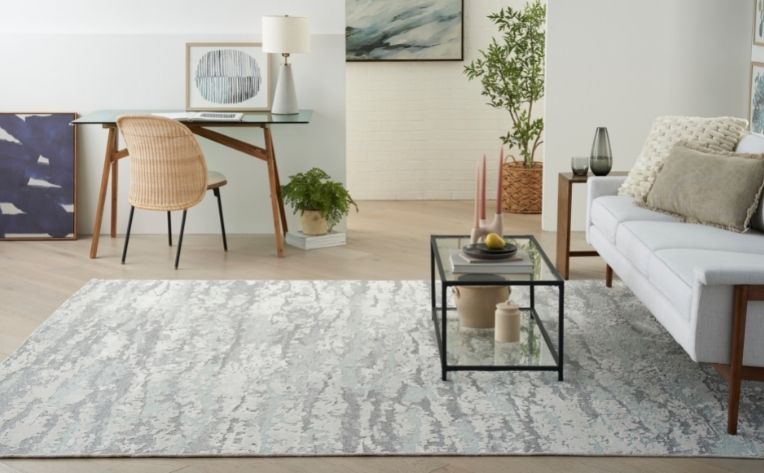 Divine in Aqua by Nourison
Rugs on hardwood floors pose some risk if you don't plan accordingly. You want to make sure you choose a non-slip area rug or add a non-slip rug gripper underneath to avoid some blooper-reel-worthy falls.
No matter what flooring you have, your local Flooring America experts are here to help you choose the perfect rugs to match. Start your next home improvement project with us today and find your dream floors fit for your lifestyle!
Continue Reading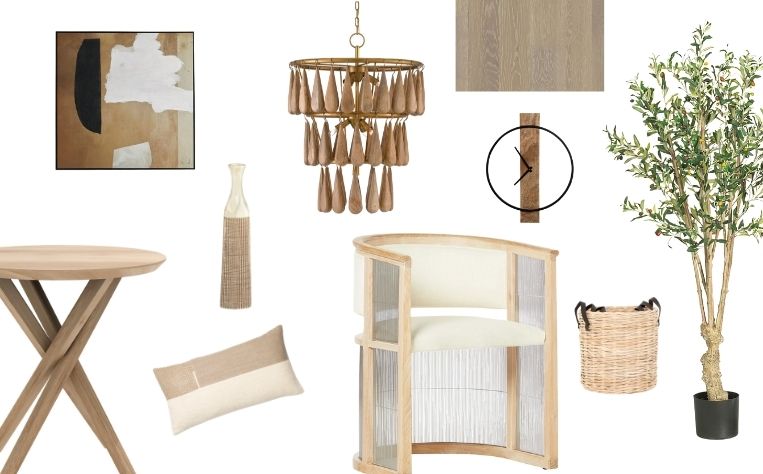 May 09, 2022
Savoiardi Chandelier by Currey and Company; Study in Neutral art by Arhaus; Rollins Vase Medium by ELK; Oak Mikado Side Table by Burke Decor; Kaishi Chair by CB2; Persephone Pillow Cover by McGee & Co; Lanes Prairie White Oak in Banana Cream by Aquadura H2O; Faux Olive Tree by Pottery Barn; Pearl Wall Clock by Renwil; Ember Natural Baskets by Scout & Nimble
With summer not far from sight, many of us are yearning to open up the patio and eagerly bring the sunshine inside. Fortunately, with this season's trending style —casual and cool —you can do just that!
Featuring items that provide a laid-back atmosphere that are both comforting and aesthetically beautiful, the casual and cool look is the perfect style for evoking a sense of warmth in design. A soft palette unites raw materials and textures, further enhancing the simplistic beauty of all things natural in this trending style.
The Best Casual & Cool Flooring Options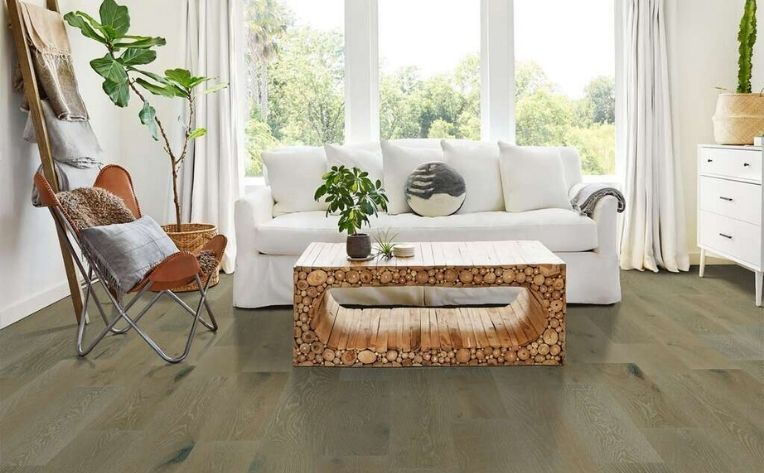 The best way to adapt to a casual and cool lifestyle is by installing worry-free floors in pale neutral shades. Our line of Aquadura H2O engineered hardwood is the perfect floor to fit your casual decor. With the smooth grain of white oak complemented by a waterproof core, this beautiful hardwood features light-washed shades that call back to casual beachy days.
How to Incorporate Natural Wood in Design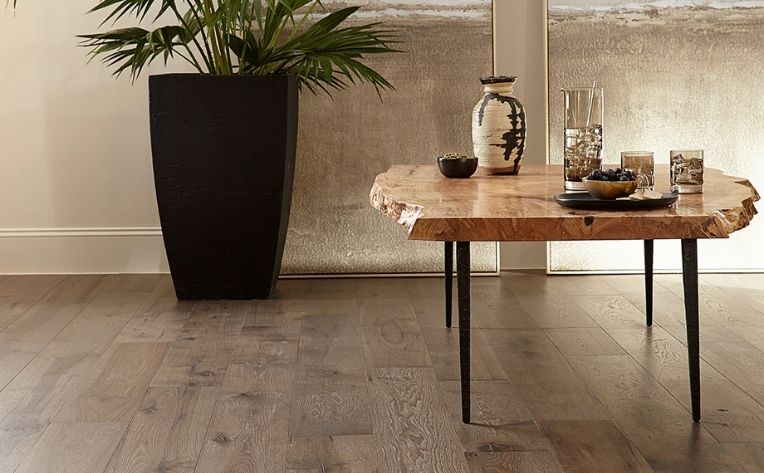 From white-washed kitchen shelves to rattan living room chairs, wood elements are key to creating a casual and cool environment. Be sure to incorporate natural wood throughout your home decor whether through small updates like a teardrop wood chandelier above the dining table or in the form of driftwood centerpieces. Natural beauty is a dominant theme in the casual and cool style, so be conscious of the materials you are using when styling your interiors. If you're someone who's drawn to wood elements like baskets and rattan, then casual and cool is the perfect style for you!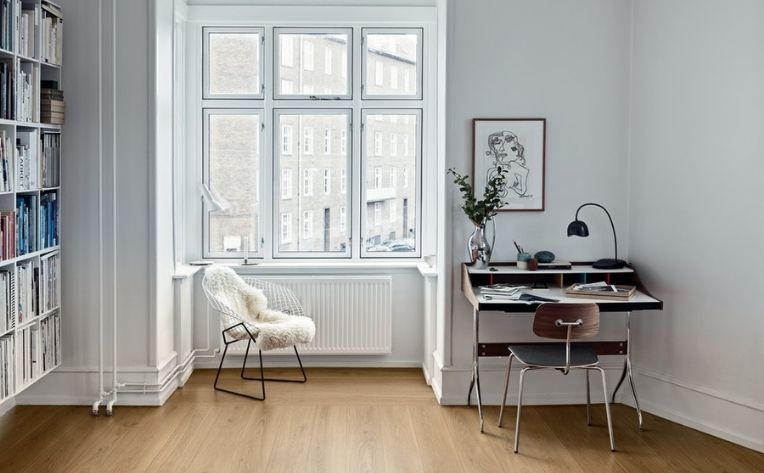 How To Use Neutral Palettes
Mixing neutral palettes with modern design elements, the casual and cool style essentially conveys a comfortable, contemporary aesthetic. Casual and cool aesthetics encourage lounging and lingering. Oftentimes, casual and cool designs can be confused with California Casual since both styles emphasize neutral, soft colors. But, while both share elements of boho-chic, casual and cool focuses more on organic elements and muted tones, leaning heavily on handmade artistry and wood finishes.
Discover more styles we love this season in our recent issue of Design at Home magazine!
Continue Reading